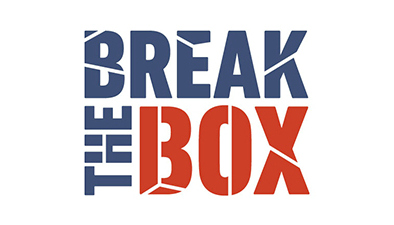 Over a teen's lifetime, it is likely that one in three of them will experience some type of abuse in a relationship.
LET'S BREAK BOXES
Our Leadership Program meets monthly with additional opportunities for community volunteer work and social events. Announcements for meeting times, dates, locations are posted on our agency social media accounts. To participate for 2017-2018, fill out and return our application!
BREAK THE BOX LEADERSHIP PROGRAM
Break the Box is a state-wide project that encourages youth to break free from harmful thinking that leads to violence. Students all over Texas are learning new ways to think about gender equality and will be gaining skills for healthier relationships as they collaborate efforts to raise awareness and education around this issue. The local program began in 2016 and we are very excited to grow and expand with each new school year.
Students enrolled in the 6th to 8th grade are eligible for our middle school program. Students enrolled in 9th to 12th grade are eligible for our Phase 2 peer leader program and will serve as a mentor to students in the middle school program.
2017-2018 MEETINGS
Break the Box meets the third Thursday of each month:
Dec 21, 2017
Jan 18, 2018
Feb 15, 2018
March 15, 2018
April 19, 2018
May 17, 2018
June 21, 2018
July 19, 2018
Aug 16, 2018

WHAT IS BREAK THE BOX?
Break the Box is a public awareness initiative, launched by The Texas Association Against Sexual Assault in March of 2013, which is all about identifying and "breaking the box" of gender stereotypes that can lead to sexual violence. But sexual violence isn't just about rape or physical harassment. It begins when we hurt people through the words we use and attitudes we carry. Only by combating these stereotypes can we break free of the limits created by social expectations which are the result of strict gender roles.
WHAT'S SO WRONG WITH BOXES?
Being in a "box" is to be trapped in by stereotypes and expectations set on us by societal norms around gender. We see and hear them everyday and they limit our freedom and stifle our potential.
When defining ourselves as men or as women is more important than defining ourselves as people, our whole community loses. When looking at gender stereotypes, certain themes begin to emerge – in particular, the idea that men are expected to be strong and dominating, while women are expected to be weaker and often seen as objects to fulfill the needs of men. These generalizations put us all in boxes and create inequality between men and women, highlighting the idea that men need to be in control and women are "less than" men. When this is tolerated in society, inequity emerges. This gender inequity creates conditions where sexual violence can thrive. We call this a "rape culture".
RAPE CULTURE
What is rape culture? It is a complex set of beliefs that encourages male sexual aggression and supports violence against women. It is a society where violence is seen as sexy and sexuality as violent. It is an environment where sexual violence, ranging from sexual remarks to sexual touching to rape itself, is more likely to occur.
MORE INFO
Break the Box is led by our Director of Community Education Maggie Guerrero. If you have any questions, please call her at (325) 655-2000 or shoot her an email.
More information on the program is available on TAASA's web site.
WHY IS BREAK THE BOX IMPORTANT?
In Texas, 2 in 5 women and 1 in 5 men are sexually assaulted at some point in their lives. That translates to 6.3 million Texans. Additionally, 65% of victims report multiple victimizations. While sexual violence takes many forms, it is important to remember that a common thread is the abuse of power of the perpetrator over the victim. It is clear that we need to change the culture so that fewer acts of sexual violence are committed. This starts with breaking down the boxes of gender inequity that marginalize women while encouraging dominance and aggression in men. These polar opposites in gender expectations lead to our imbalance as a society and create an environment that tolerates and even subtly propagates sexual violence against our friends, partners, neighbors, parents, children, and more than 33% of all Texans.